DISTILLERY TOUR & HYSTERICAL HISTORIES BUNDLE EXPERIENCE
Why not explore ALL of what Cork City has to offer? We all love a bit of value and so we are running a partnership with the legendary Hysterical Histories, we are offering a discounted price to book in with both our Distillery Tour and a ticket for your Hysterical Histories Dinner Comedic Event!
First; Book your Rebel City Distillery Tour!
Second; Book in for your Hysterical Histories Cork Comedic Theatre Dinner. Available dates indicated on the Book Now button above – email [email protected] with your preferred date!
Choose from the dates at the end of page. Please note these events are not held in the same location, and for your convenience they can be enjoyed on separate days.
Distillery Tour:
Discover the Alchemy and Artistry of Distillation at the Rebel City Distillery. With a Gin and Tonic in hand, enjoy a guided tour of the Rebel City boutique craft distillery. Surrounded by the beautiful aromas of Indian botanicals learn about the process of distillation in this landmark building and finish with a choice of tasting from any Rebel City Distillery Spirit. Guided Tour is in English.
Location: Rebel City Distillery, Unit P6, Marina Commercial Park, Centre Park Road, Cork City
Hysterical Histories Comedic Dinner Theatre Event:
Hysterical Histories is PURE CORK. This must-do, inimitable comedy theatre experience is a high-octane, laugh-out-loud adventure that is unlike anything else in Ireland, or around the world! Written and delivered by established professional Irish actors, this jam-packed performance celebrates all things Cork within one of Cork's historic buildings. Over two hours, discover the highlights of Cork's 1500-year history and become acquainted with a county full of quirky characters, their habits, humour, and language. Enjoy local Cork food and drinks, served up with live music and plenty of personality as you engage with the actors. Leave with a belly full of food, a warm feeling in your heart and a new skill, having learned how to "speak Cork."
Location: Amicus Restaurant, Paul Street, Cork City
Dates & Times: *ALL dinners start at 7pm*
Thurs June 22nd, Fri June 23rd, Sat June 24th        Thurs June 29th, Fri June 30th,  Sat July 1st              Thurs July 6th, Fri July 7th,  Sat July 8th                       Thurs July 13th, Fri July 14th,  Sat July 15th,              Thurs July 20th, Fri July 21st,  Sat July 22nd,            Thurs July 26th,  Fri July 27th,  Sat July 28th,            Thurs August 10th,  Fri August 11th,  Sat August 12th, Wed August 16th, Thurs August 17th, Fri August 18th, Sat August 19th, Thurs August 24th, Fri August 25th, Sat August 26th
Email [email protected] with your preferred date!
PLEASE NOTE:
This Bundle experience is intended to give our customers a discount on our combined experiences with the flexibility to book times that suit them. These experiences are not run in the same location, and for your convenience the experiences can be enjoyed on separate days. A separate booking enquiry to [email protected] is required to book your preferred date & time for Hysterical Histories. Please read the available dates for Hysterical Histories below before booking. In the event there is no availability for the Hysterical Histories experience on the date you are looking to book for a refund will be issued.
This is a fully-functioning distillery nested in the Old Ford electrical transformer building. The building was built in 1917 and has lain dormant from 1984 -2020. The building can be cold during winters as the building was  not built to retain heat. Warm clothing advised.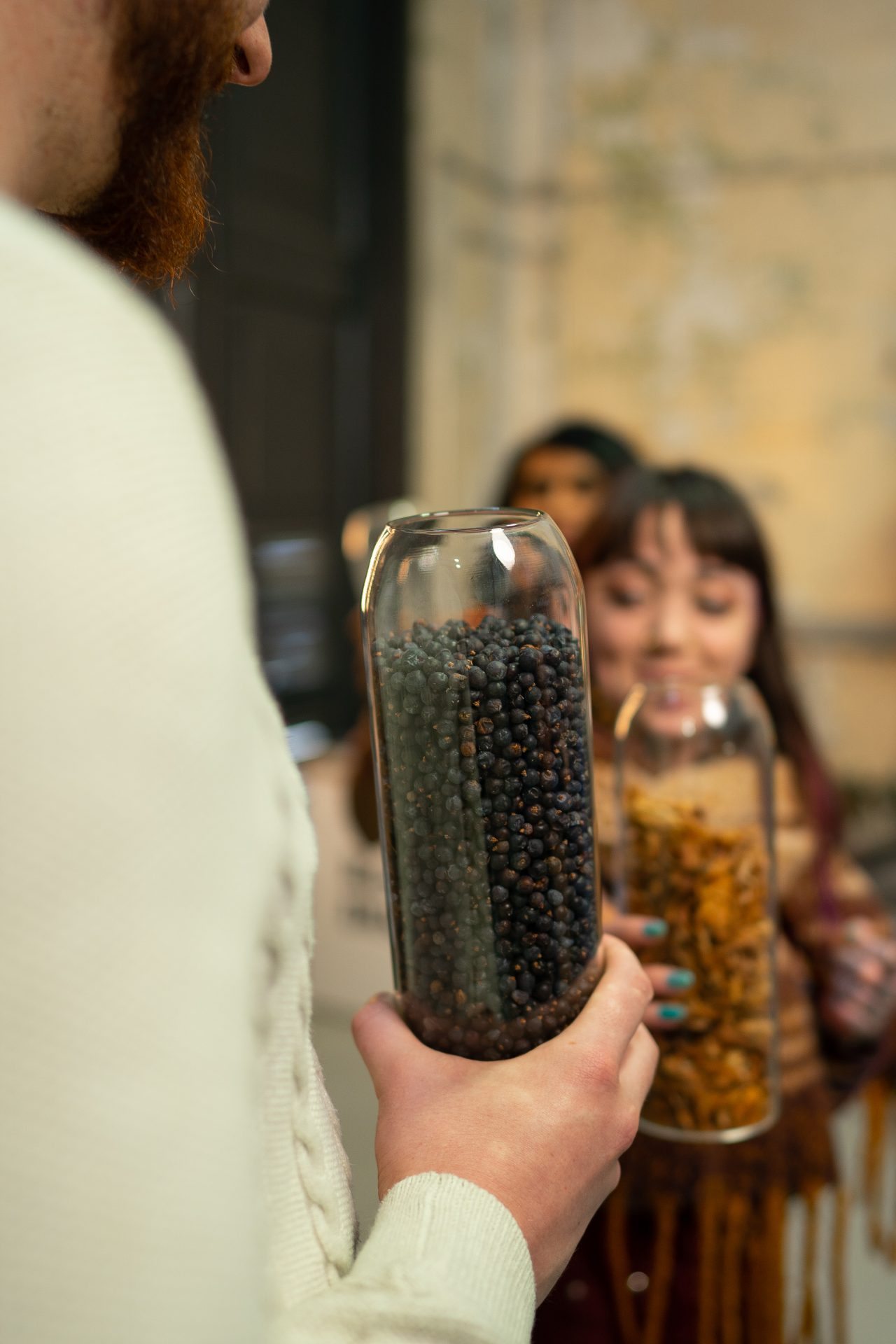 TRIPADVISOR REVIEWS
Spirits and passion Owners are so passionate about their product! It's a little distillery, family business, yet very interesting to visit. We were welcomed by the owner and she told us the story of how it all begun, what is the technological process and provided tasting of gin and absent with different complimentary adds. We had a great time and felt like talking to a group of friends. Must visit if in Cork!
Charming & enthusiastic This was fun. Tiny distillery with personality. Met the founders and makers. Enthusiastic presentation of (currently) their gin and absinth. Good tasting (G&T + absinth straight) . Bought a bottle to present for my friends at home. A bit cumbersome to get to (and from) but worth the trip. Taxi needed.
Fantastic way to spend an evening in Cork City! Absolutely amazing, unique and insightful experience from start to finish, I would definitely recommend you attend the Cocktail Masterclass and Tour at Rebel Distillery, you'll leave having learned something new and with a smile on your face!
Brilliant tour overall. Worth the money! Róisín explained Gin and Absinthe manufacturing very well. The complimentary drinks were wonderful.
Tasty and delightful! This tour was fun and informative. Not only were they incredibly detailed on the process of producing gin and absinthe, I received a wonderful history of Cork City as well. Tasty drinks!
Hidden Gem just off Eyre Square Well this is a hidden gem Fab cocktails Super friendly and enthusiastic staff Gorgeous drinks - very different Really enjoyed this visit Will go back Lots of locally sourced ingredients
Sassy Saree party + distillery tour Went to a sassy saree party which included the tour of the distillery and what fun it was! Enjoyed my time learning about the process and spices and meeting new folks. Looking forward to more!
A great place to visit We had an excellent visit to the distillery with a long history. A very interesting and informative tour by Rosheen. A great product with a genuine family back story. Well worth a visit when you are in Cork. I recommend this place.
Rebel City Gem I was the only person to sign up for my time slot but the tour still went ahead. Roisín gave me the VIP treatment, combining great knowledge of her subject with lots of warmth, enthusiasm and humour. I really enjoyed the whole experience (not to mention the delicious sampling) and although I've lived in Cork all my life I still learned a lot about the history of this part of the city. Roisín was a great ambassador for Rebel City Distillery.
Fantastic, you have to go. This is a must do! We had a fantastic evening at the cocktail masterclass and distillery tour. Its great to see the old Ford building brought back to life in such an amazing way. The storys, history and expertise from Roisín were second to none. Make sure you visit and enjoy!
We had a wonderful tour around this cozy and full of passion place. Bhagya is amazing host and she loves what they are doing. The gin is very soft but full of taste. Love how the spices work together to form such a warm and rich taste. That's great to see how such people are passionate about their work and appreciate every detail - starting from taste and even in decorations and keeping the style of the old factory. Must see in Cork and a wonderful gin to taste!
What an amazing Gin experience. First of all Maharani Gin is amazing. We did the tour and cocktail class. Bhagya was so much fun and engaging. Loved this place and I couldn't recommend a visit more to anyone in the city
An absolutely fabulous experience - we did the Tipsy Tea for a small hen party. Bhagya is such a beautiful host, she looked after us all so well. We loved learning about the distilling process, and the Maharani gin is just sublime! We were also lucky enough to get a taste of their absinthe which was delightful - unexpectedly! Gorgeous afternoon tea treats to accompany it all. Could not recommend Rebel City Distillery more highly. A magical oasis so close to the city centre.
Amazing experience
Everything about the Rebel City Distillery experience is fantastic. From the minute I contacted them about our hen party celebration they were so accommodating and did everything to ensure a brilliant day was planned. Bhagya is the most wonderful host, so fun, lovely and knowledgeable. Nicky and Niamh hosted our cocktail making class and they were great fun and we loved all the cocktails. The whole experience was great craic and our hen and hen party had the best afternoon. The building is so cool, the gin is gorgeous and we couldn't have asked for a better crew. Thanks for an amazing afternoon. Would recommend to anyone visiting Cork 💙🍸😍
We had the most amazing afternoon with Bhagya, Niamh and Nicky at the Rebel City Distillery. Thank you SO much for a brill time, we had an absolute ball! Unforgettable fun! X
Absolutely fantastic place. Amazing venue and the staff where so lovely and attentive. Did the distillery tour and cocktail making class and couldn't have felt more welcome. The gin is absolutely amazing
Jonathan Silverman
2023-09-05
Such a lovely intimate experience. A brave decision to set up a brewery. Lovely gin, and welcoming hosting from Bhagya. Thoroughly recommended. Suffice it to say we bought our gin. A must do if you have an hour to spare in Cork.
Claudia George
2023-09-02
Róisín was a brilliant, friendly, energetic guide. We had a beautiful experience and great overview of gin and absinthe making. We got to smell the herbs and spices that go into the gin such as Juniper berries. The complimentary drinks were wonderful and don't worry if you are driving - non-alcoholic versions are also available! Questions about the process were also welcome which was a plus. Overall a very productive evening! Highly recommended if you are curious about Ireland's first absinthe!!
Florian Barreau
2023-09-02
Très bon moment passé dans cette distillerie, très bon gin par ailleurs, à faire absolument !!!